What a great idea to visit France ! It is an amazing country for sightseeing as there's no need to drive for hours to change the scenery, 200 km and you're in a completely different place with its own unique beauty. We have selected 10 of our favorite places with 3 choice criteria to help you pick.
1 – Paris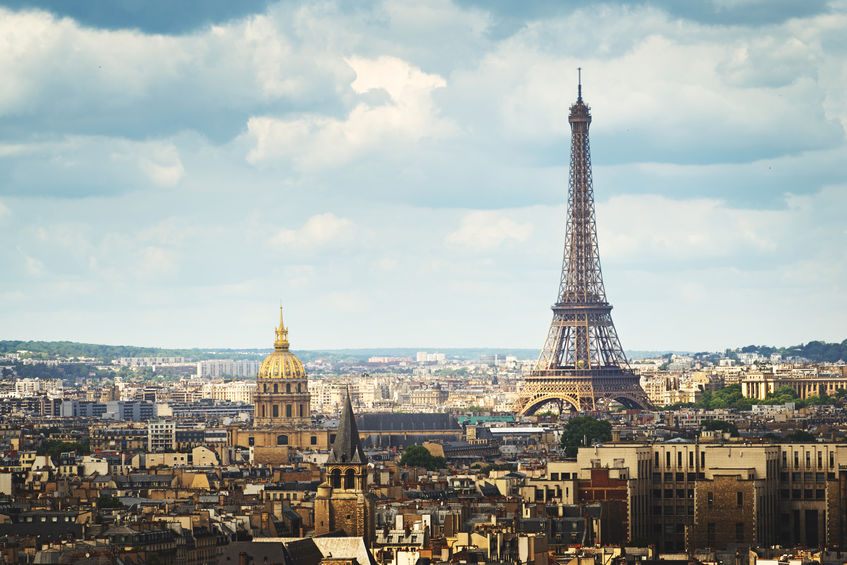 The City of Lights cannot be missed : strolling the streets and admire the beautiful buildings, dining on the Seine river, climbing up the Eiffel Tower, smiling at Mona Lisa in the Louvre and more. Why you will love Paris :
Wonderfully preserved monuments and buildings of all historical periods
A multitude of world class museums and cultural events
A world capital of food, wine & nightlife
For connected travellers, download the numerous apps that will help you get around !
2 – The Alps & the Mont Blanc
At 4810 meters, the Mont Blanc is the top of Europe. If you're not trained to hike it up, ride the cable car to the Aiguille du Midi and enjoy breathtaking views of the French, Swiss and Italian Alps. A skiers' paradise in the winter, it's also a great destination in the Summer. Why you will love the Alps :
Nature, fresh air and breathtaking views
It's the home of cheese fondue
Beautiful lakes with crystalline waters
3 – The Loire Valley
280 km of Renaissance castles, medieval abbeys, hunting domains and vineyards set along the lush Loire river banks. Visit the Sleeping Beauty's castle at Ussé, watch a light show on the extravagant Château de Chambord or spend the night in the Abbey of Fontevraud. Why you will love the Loire Valley :
A multitude of historical sites in a green setting
Wine and gastronomy
Awesome bike trails
4 – The Gorges du Verdon
A natural gem : light green river flowing through monumental cliffs, lake Sainte-Croix with its turquoise w aters bordered by the lovely town of Moustiers. Climb the cliffs or go paragliding if you dare, canoe down the stream or hike on the river shore. Why you will love the Gorges du Verdon :
It's a nature lovers' paradise
Great place to go camping
White water sports area
And here are a few tricks to stay connected on your camping trip.
5 – Corsica
Also called the Island of Beauty, Corsica has it all. Paradise beaches with clear water, rocky mountains, and lovely historical towns. From beach resorts to nature trails, there's something for everybody's style of vacations. What you will love in Corsica :
Secluded creeks and party beaches
GR20 hiking trail
The cliff hanging medieval town of Bonifacio
6 – The Basque Coast
The Basque coast is located at the foot of the Pyrenees on the Spain border. An ideal vacation spot with surf beaches, beautiful cliffs that plunge into the ocean, picturesque villages and chic beach towns. Why you will love the Basque Coast :
The beautiful coastal trail
Watching the Sunset in a bar overlooking the ocean, nibbling tapas
The lovely architecture
7 – Mont St Michel
Sitting on the border of Normandy and Brittany, the Mont St Michel is a Gothic Abbey built on top of a rock in a bay featuring the greatest tides in Europe. Depending on the time of year, it's completely surrounded by sand or water. Why you will love the Mont St Michel :
Step back in time while visiting the abbey and the surrounding village on the rock
An exceptional natural site
Close to D-Day beaches and the beautiful Côte d'Emeraude
8 – The Bay of Arcachon
A few kilometers from Bordeaux, discover the Bassin d'Arcachon. Bordered by the picturesque oyster farming villages of the Cap Ferret peninsula on one side and the beautiful XIXth century beach towns on the other side, it's a wonderful vacation spot. Why you will like the Bay of Arcachon :
Climbing the beautiful Dune du Pilat
Sailing on the Bay and beyond
Visiting nearby Bordeaux vineyards
9 – The Puys range
Did you know that there were volcanoes in France ? The Auvergne region has a large range of old volcanoes whose soft curves offer ideal hiking grounds for the whole family. Very green and rural, Auvergne has some of the best cheeses in France. Why you will like the Puys range :
Breathtaking views from the Puy de Dôme
Vulcania amusement park
Many unusual eco-lodges
10 – The Cathar Country
In the Languedoc region, stuck between the Pyrénées mountains and the Mediterranean Sea, you will find a wonderful natural landscape of forests and rivers where 13th century castles are perched on rocks. Why you will like the Cathar Country
The fortified city of Carcassonne
A region extremely rich in history, myths and legends
The Cathar Trail
Learn More : The concept